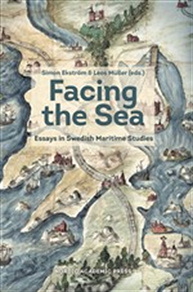 Facing the Sea: Essays in Swedish Maritime Studies
Havet har flera ansikten. Ofta rofyllt och välkomnande, men också våldsamt och dödsbringande. I årtusenden har havet varit en scen för liv, handel och krig och misslyckanden.
I Facing the Sea får vi ta del av svenska erfarenheter av havet. Vi får läsa om smugglare från Åland, brittiska kapare som beslagtar svenska skepp och marinofficerare som kämpar för flaggans heder. Vi ser också vad en katastrof till sjöss eller bärgandet av ett skeppsvrak kan berätta om samhället i dåtid och nutid, och varför allt fler människor väljer att begrava sina anhöriga till sjöss. Rösterna av barn som i krigstid tagit den farliga flyktvägen över Östersjön ger ytterligare en dimension till innehållet.
Facing the Sea har författats av elva forskare som tillsammans representerar ett axplock av den forskning som bedrivs vid Centrum för maritima studier (CEMAS) vid Stockholms universitet. Författarna är historiker, etnologer och marinarkeologer med koppling till forskningscentret.
---