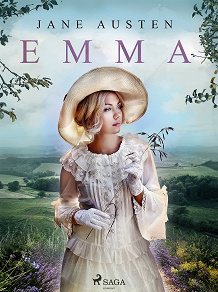 Emma 
Jane Austen famously wrote: 'I am going to take a heroine whom no one but myself will much like.'

Emma Woodhouse is perhaps Jane Austen's most seductive and complicated character, filled with intrigue and uniqueness. Despite having decided to never marry, precocious Emma Woodhouse is a self proclaimed cupid that has taken it upon herself to help her friends find eligible matches. As it becomes evident that the judgement of her matchmaking abilities is misplaced, Emma finds herself at the heart of several romantic misadventures.

'Emma' is a novel about adolescent arrogance and the complicated nature of romantic relations. Commenting on 19th-century English society, 'Emma' is filled with Austen's literary wit and rich and memorable characters, making it the forerunner for contemporary romances. 'Emma' has been adapted for a modern audience several times, most recently in the 2020 Hollywood comedy-drama, starring Anya Taylor-Joy and Johnny Flynn.


Jane Austen (1775-1817) is one of the most beloved British writers of all time. During her short life she published six novels: ´Sense and Sensibility´, ´Pride and Prejudice´, ´Mansfield Park´, ´Emma´, ´Northanger Abbey´ and ´Persuasion´, that are all considered as literary classics today. Her writing is full of sharp observations on the society in which she evolved, as well as ripe with timeless irony, and a solid dose of humour. She has created immortal characters that have inspired countless authors, novels, and movies such as Bridget Jones and Clueless.
---