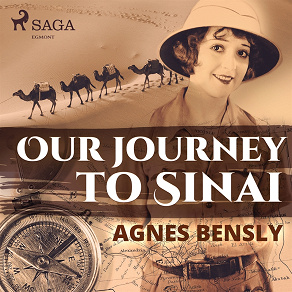 Our Journey to Sinai
Fortress-walled Saint Catherine's monastery on the Sinai Peninsula (Egypt) has been a pilgrimage site since its founding by the Byzantine Emperor Justinian in the 6th century. According to tradition, the monastery sits at the base of the mountain where Moses received the Tablets of the Law. Set in rugged country, it was for a very long time only accessible through a long camel-back journey across the barren desert. The monastery survived intact through the centuries, and as a result became a rich repository of religious history: icons, mosaics, books and manuscripts have been preserved through the ages in the monastery's library.
"Our Journey to Sinai" by Agnes Bensly is the story of a visit to Saint Catherine's by a group of British scholars in the 1890's, who were drawn there in their quest for early Christian manuscripts. They were looking for a second century translation of the Gospels from the Greek into an Aramaic dialect called Syriac, a very rare and precious document. One of the group's members, Agnes Smith Lewis, an accomplished linguist, has been to the monastery once before. During that visit, she had spotted a "palimpsest of most venerable appearance." Smith Lewis had recognized the hidden underwriting in this book to be in Syriac, "the native language of Our Lord and His disciples." This is the reason why the group has now decided to revisit Saint Catherine's, in the hope of finding and copying that ancient text.
Their trip is vividly described by Agnes Bensly, portraying bustling Cairo, Bedouins crossing the desert with their camels, the monks and monastery life of Saint Catherine, the breathtaking climb up the 3000 stone steps to the top of Mount Sinai, and what they found in the mysterious manuscript they had come so far to see.
"Our Journey to Sinai" is a wonderful travel book and an intimate portrait of Saint Catherine's monastery, a monastery which is today a World Heritage Site.


Agnes Dorothea Bensly (born Von Blomberg), was born in 1834 in Postdam, Prussia (current Germany). The daughter of Baron Eduard von Blomberg, she married the Orientalist and biblical scholar Robert Lubbock Bensly (1831-93) in 1860. The Cambridge man had been studying Syriac in Bonn and Halle. He made two short visits to Egypt and Sinai but died a few days after his return from his last trip. Agnes lost her sight shortly after, but she wanted to have his work published, and as such, wrote "A Journey to Sinai" in braille. She passed away on the 22nd December 1900, in England. 
Listen to sample
---