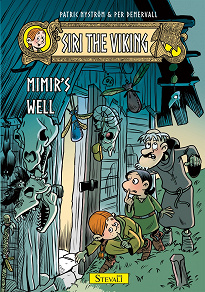 Siri the viking - Mimir´s well
Siri the Viking is the perfect book for kids who want to learn more about Vikings. The comic combines adventure and history in a humorous story with colorful characters and fascinating settings. 
SIRI IS BACK for another adventure! This time, the brave Viking girl and her friend Zack are searching for a lost treasure. They are helped along by Ansgar the monk, who is looking for his stolen books. A series of clues point them toward a mysterious place called Mimir s Well. But the villainous Ivar and his clumsy assistant Grim are hot on their trail, eager to get the treasure for themselves.
Once again Siri has to use all her cleverness as she faces baffling riddles and dangerous traps. If she makes it through, perhaps she may find the answer to the greatest riddle of all: what precious treasure lies hidden in the depths of Mimir s Well?
Per Demervall (born 1955) is one of Sweden´s most experienced comic book artists, with a wide range of publications. He made his debut in 1979 with Ulltryfflarna (The Wool Truffles), a fantasy comic for children. His breakthrough came in 1986 with the comic book adaption of August Strindberg´s The Red Room. In December 2018 he was awarded the Swedish Academy of Comic Art´s prestigious Adamson statuette for a versatile and long-standing comic book career . Demervall s recent work on the series Siri the Viking has been highly praised. 
Patric Nyström (born 1968) debuted in 1991 and has since written for a long line of comic book series, including the Swedish Moomin comics and the comic adaptation of Frans G. Bengtsson s epic The Long Ships (Red Orm), the first part of which was published in 1999. Siri the Viking, in which real historical events, places and people serve as the backdrop for the title character s adventures, this is his first major solo project.
---