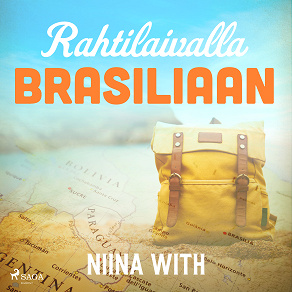 Isbn:
978-87-2655-734-3
Publisher:
Saga Egmont
Category:
Memoirs & Biography
Travel & Holiday
Accessible since:
September 2020
Narrator:
Roosa Honkanen
Length: 6 hours 16 minutes
---
Rahtilaivalla Brasiliaan
Kolmenkymmenen ikävuoden rajapyykkiä lähestyessään Niina With anoi vuoden vuorotteluvapaan, pakkasi rinkkaansa kaiken, mitä kuvitteli reissun aikana tarvitsevansa ja lähti yksin rahtilaivalla Etelä-Amerikkaan. Matka vei Brasiliaan Salvadorin karnevaaleihin, jatkui jokilaivalla pitkin Amazonia ja koukkasi Bolivian suola-aavikon kautta Argentiinaan.
Vajaan viiden kuukauden aikana hän näki, koki ja kuuli paljon. Matkan aikana kirjoitetut "uutiset" paikallisesta elämänmenosta sisältävät matkan herättämiä ajatuksia sekä tietoa maiden historiasta ja nykyhetkestä. Tekstin vahvuus on sen aitoudessa, kaikki tunteet ovat mukana sellaisina kuin kirjoittaja on ne tapahtumahetkellä kokenut.

Suomalaisen Niina Within tuotantoon kuuluu muun muassa matkakertomuksia, lastenkirjoja ja chick lit -romaaneja. Kirjailijan työn lisäksi With on toiminut vuosia kustannuspäällikkönä.


Listen to sample
---