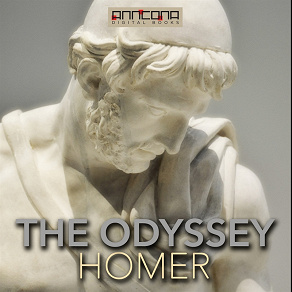 The Odyssey, Samuel Butler translation
The Odyssey, Samuel Butler translation, is one of two major ancient Greek epic poems attributed to Homer. It is, in part, a sequel to the Iliad, the other Homeric epic. 
The poem mainly focuses on the Greek hero Odysseus (known as Ulysses in Roman myths), king of Ithaca, and his journey home after the fall of Troy. It takes Odysseus ten years to reach Ithaca after the ten-year Trojan War. In his absence, it is assumed Odysseus has died, and his wife Penelope and son Telemachus must deal with a group of unruly suitors, the Mnesteres or Proci, who compete for Penelope's hand in marriage. 
Many of these stories are familiar to us, Ulysses and the Sirens, Circe turning his crew to swine and their escape from the Cyclops on the bellies of his sheep, to name a few.
The Odyssey is fundamental to the modern Western canon; it is the second-oldest extant work of Western literature, while the Iliad is the oldest. Scholars believe the Odyssey was composed near the end of the 8th century BC, somewhere in Ionia, the Greek coastal region of Anatolia. Homer was supposedly a blind poet thought to have lived in the Greek colonies in Asia Minor, possibly at Smyrna.
This edition of the Odyssey was translated by Samuel Butler and first published in 1900. Audiobook read by Mark Nelson, running time 11 hours. Also available as E-Book, ePUB, length 123,700 words, average reading time 10 hours 10 min.
Homer (c. 8th cen) In the Western classical tradition, Homer is the author of the Iliad and the Odyssey and is revered as the greatest of ancient Greek epic poets. These epics lie at the beginning of the Western canon of literature and have had an enormous influence on the history of literature. 
Listen to sample
---