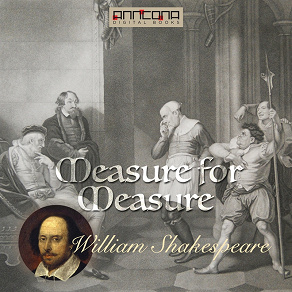 Isbn:
978-91-7759-625-7
Publisher:
Anncona Media
Category:
Literary studies
Plays
In english
Accessible since:
June 2019
Narrator:
Tony Addison
Length: 3 hours 26 minutes
---
Measure For Measure
Measure for Measure is a play by William Shakespeare, believed to have been written in 1603 or 1604. Originally published in the First Folio of 1623, where it was listed as a comedy, the play's first recorded performance occurred in 1604. 
The play's main themes include justice, "mortality and mercy in Vienna," and the dichotomy between corruption and purity: "some rise by sin, and some by virtue fall." Mercy and virtue predominate, since the play does not end tragically.
Measure for Measure is often called one of Shakespeare's problem plays. It was, and continues to be, classified as comedy, though its tone and setting defy those expectations.
AUDIO: Reading by Tony Addison, running time: 3 hours, 27 min. Unabridged full version. E-book: ePUB, 30 800 words, reading time approximately 2 hours, 30 min. 
William Shakespeare (1564-1616) was an English poet, playwright and actor, widely regarded as the greatest writer in the English language and the world's pre-eminent dramatist. His extant works, including some collaborations, consist of about 38 plays, 154 sonnets, two long narrative poems, and a few other verses. His plays have been translated into every major living language and are performed more often than those of any other playwright.
Shakespeare was a respected poet and playwright in his own day, but his reputation did not rise to its present heights until the 19th century. His plays remain highly popular today and are constantly studied, performed, and reinterpreted in diverse cultural and political contexts throughout the world. In 2016, celebrations and festivals in the United Kingdom and across the world honoured The Bard's 400th anniversary.
Listen to sample
---