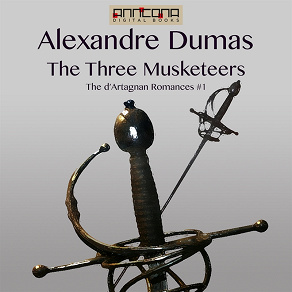 The Three Musketeers
The Three Musketeer is a historic adventure novel by Alexandre Dumas.
D'Artagnan, son of a poor Gascon aristocrat, travels to Paris to seek his fortune. His family connections enable him to obtain a position in a Guard regiment. His provincial ingenuousness and his hot-headed sense of honor earn him three duels in as many hours. Thankfully, his preparation with the sword is sufficient to recommend himself to his Musketeer antagonists, and they – Athos, Porthos, and Aramis – become his fast friends. 
But fate also crosses D'Artagnan's path with some dangerous people who become his opponents: a mysterious "man from Meung" and a woman who styles herself Milady, who has formidable seduction skills and a heart that is mean and violent. Fate also inserts D'Artagnan and his Musketeer friends squarely in the middle of a love triangle of heroic proportions – between Anne of Austria (the Queen of France), George Villiers (the Duke of Buckingham, France's enemy), and the great spymaster, his Eminence the Cardinal Richelieu. 
Both of these gentlemen can command the armed forces of their respective countries to battle simply for the pleasure of beating the other. And the Musketeers must serve and risk life and limb at the siege of La Rochelle, a place where the Duke and the Cardinal have chosen to match wills. 
It takes all the efforts of the four to fend off the lethal consequences of mixing in the affairs of their betters and the slings and arrows (not to mention the musket and cannon balls!) of their outrageous fortunes.
The Three Musketeers was first published in 1844. AUDIO: Read by Mark F. Smith, running time 26 hours, 14 min. Also available as E-Book: ePUB, 230,000 words, Average reading time 19 hours, 10 min. Translated by William Robson.
Alexandre Dumas, (1802-1870), also known as Alexandre Dumas, père, was a French writer, best known for his historical novels of high adventure. Translated into nearly 100 languages, these have made him one of the most widely read French authors in the world. Many of his novels, including The Count of Monte Cristo, and The Three Musketeers were originally published as serials. His novels have been adapted since the early twentieth century for nearly 200 films.
Listen to sample
---