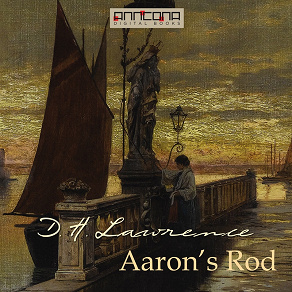 Isbn:
978-91-7605-391-1
Publisher:
Anncona Media
Category:
Novels
Travel & Holiday
In english
Accessible since:
July 2016
Narrator:
Bill Boerst
Kristine Hand
Length: 11 hours 35 minutes
---
Aaron's Rod
Aaron's Rod is a novel by D. H. Lawrence, published in 1922.
The protagonist of this picaresque novel, Aaron Sisson, is a union official in the coal mines of the English Midlands, trapped in a stale marriage. He is also an amateur, but talented, flautist. At the start of the story he walks out on his wife and two children and decides on impulse to visit Italy…
The biblical title refers to the rod of Aaron in the Old Testament, Moses' brother who built the Golden Calf in the desert for the worship of the Israelites. The rod, his divine symbol of authority and independence, finds its echo in the flute of Aaron Sissons.
Aaron's Rod is in places a hastily written text, some critics have argued, with a bitter view of humanity, especially the relationships between men and women. But in recent years its brilliance has been accepted by many critics. Many critics group it with other political or leadership novels by Lawrence, such as Kangaroo and The Plumed Serpent that show a tendency toward some form of authoritarianism or fascism.

Reading by Bill Boerst. The last two chapters (37 & 38) are read by Kristine Hand.  
Total Running Time (TRT): 11h, 40 min.
David Herbert Lawrence (1885-1930) was an English novelist, poet, playwright, essayist, literary critic and painter who published as D. H. Lawrence. Lawrence is perhaps best known for his novels Sons and Lovers, The Rainbow, Women in Love and Lady Chatterley's Lover.
Listen to sample
---