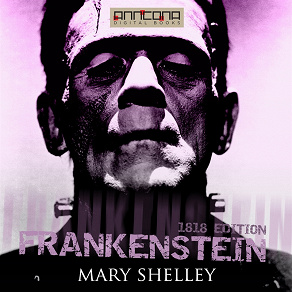 Isbn:
978-91-7605-346-1
Publisher:
Anncona Media
Category:
Novels
Fantasy & Sci-Fi
In english
Accessible since:
November 2014
Narrator:
Caden Vaughn Clegg
Length: 7 hours 18 minutes
---
Frankenstein (1818 edition)
Frankenstein; or, The Modern Prometheus (1818 edition), is a novel written by English author Mary Shelley about eccentric scientist Victor Frankenstein, who creates a grotesque creature in an unorthodox scientific experiment. Shelley started writing the story when she was eighteen, and the novel was published when she was twenty. The first edition was published anonymously in London in 1818.
Shelley had travelled through Europe in 1814, journeying along the river Rhine in Germany with a stop in Gernsheim which is just 17 km away from Frankenstein Castle, where two centuries before an alchemist was engaged in experiments. Later, she traveled in the region of Geneva (Switzerland), where much of the story takes place, and the topics of galvanism and other similar occult ideas were themes of conversation among her companions, particularly her lover and future husband, Percy Shelley. Mary, Percy, Lord Byron, and John Polidori decided to have a competition to see who could write the best horror story. After thinking for days, Shelley dreamt about a scientist who created life and was horrified by what he had made; her dream later evolved into the story within the novel.
Frankenstein is infused with elements of the Gothic novel and the Romantic movement and is also considered to be one of the earliest examples of science fiction. Brian Aldiss has argued that it should be considered the first true science fiction story, because unlike in previous stories with fantastical elements resembling those of later science fiction, the central character "makes a deliberate decision" and "turns to modern experiments in the laboratory" to achieve fantastic results. It has had a considerable influence across literature and popular culture and spawned a complete genre of horror stories, films, and plays.
On 31 October 1831, the first "popular" edition in one volume appeared, published by Henry Colburn & Richard Bentley. The 1931 edition was heavily revised by Mary Shelley, partially because of pressure to make the story more conservative, and included a new, longer preface by her, presenting a somewhat embellished version of the genesis of the story. This edition tends to be the one most widely read now, although editions containing the original 1818 text are still published. Many scholars prefer the 1818 text, arguing that it preserves the spirit of Shelley's original publication.
Mary Shelley (1797-1851) was an English novelist, short story writer, dramatist, essayist, biographer, and travel writer, best known for her Gothic novel Frankenstein: or, The Modern Prometheus (1818). She also edited and promoted the works of her husband, the Romantic poet and philosopher Percy Bysshe Shelley. Her father was the political philosopher William Godwin, and her mother was the philosopher and feminist Mary Wollstonecraft.
Listen to sample
---