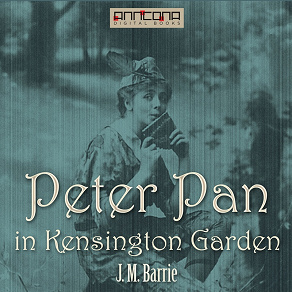 Isbn:
978-91-7605-353-9
Publisher:
Anncona Media
Category:
Novels
Children's books
In english
Accessible since:
November 2014
Narrator:
Peter Eastman
Length: 2 hours 23 minutes
---
Peter Pan in Kensington Gardens
Peter Pan in Kensington Gardens is a children's novel and tells of the origin of Peter Pan. When he is seven days old, Peter Pan flies away from his mother (forgetting that he is no longer a bird and therefore cannot fly), comes to live in Kensington Gardens, and acquires a goat.
Peter Pan is a character created by Scottish novelist and playwright J. M. Barrie. A mischievous boy who can fly and never grows up, Peter Pan spends his never-ending childhood adventuring on the small island of Neverland as the leader of his gang, the Lost Boys, interacting with mermaids, Native Americans, fairies, pirates, and occasionally ordinary children from the world outside of Neverland. In addition to two distinct works by Barrie, the character has been featured in a variety of media and merchandise, both adapting and expanding on Barrie's works.
The following Peter Pan works are available:
Peter Pan in Kensington Gardens (1906), by J. M. Barrie, an origin story where the infant Peter flies away from his home, takes up residence in Kensington Gardens and makes friends with the fairies.
Peter Pan and Wendy (1911), by J. M. Barrie (novel), the novelized story of the play and incorporating the events of Barrie's sequel An Afterthought.
Peter Pan first appeared in a section of The Little White Bird, a 1902 novel written by J.M Barrie for adults.
The character's best-known adventure first appeared on 27 December 1904, in the form of a stage play entitled Peter Pan, or The Boy Who Wouldn't Grow Up. The play was adapted and expanded somewhat as a novel, published in 1911 as Peter and Wendy.
Following the success of the 1904 play, Barrie's publishers, Hodder and Stoughton, extracted chapters 13-18 of The Little White Bird and republished them in 1906 under the title Peter Pan in Kensington Gardens.
Sir James Matthew Barrie, (1860-1937) was a Scottish author and dramatist, best remembered today as the creator of Peter Pan.
Listen to sample
---