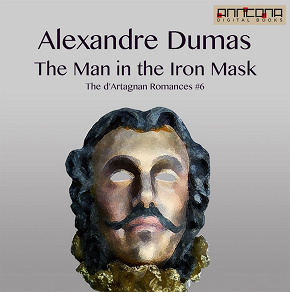 Isbn:
978-91-7605-332-4
Publisher:
Anncona Media
Category:
Novels
History
In english
Accessible since:
October 2014
Narrator:
Mark Nelson
Length: 20 hours 42 minutes
---
The Man in the Iron Mask
The Man in the Iron Mask (French: L'Homme au Masque de Fer) is a name given to a prisoner arrested as Eustache Dauger in 1669 or 1670, and held in a number of jails, including the Bastille and the Fortress of Pignerol (today Pinerolo). He was held in the custody of the same jailer, Bénigne Dauvergne de Saint-Mars, for a period of 34 years. He died on 19 November 1703 under the name of Marchioly, during the reign of Louis XIV of France (1643 - 1715). The possible identity of this man has been thoroughly discussed and has been the subject of many books, because no one ever saw his face, which was hidden by a mask of black velvet cloth.

The d'Artagnan Romances are a set of three novels by Alexandre Dumas telling the story of the musketeer d'Artagnan from his humble beginnings in Gascony to his death as a marshal of France in the Siege of Maastricht in 1673.

The three novels are:

- The Three Musketeers, set in 1625; first published in serial form in the magazine Le Siècle between March and July 1844. Dumas claimed it was based on manuscripts he had discovered in the Bibliothèque Nationale.

- Twenty Years After, set in 1648; serialized from January to August, 1845.

- The Vicomte of Bragelonne: Ten Years Later, set between 1660 and 1673; serialized from October 1847 to January 1850. This vast novel has been split into four volumes; The Vicomte de Bragelonne, Ten Years Later, Louise de la Vallière and The Man in the Iron Mask.

Alexandre Dumas, (1802 - 1870), also known as Alexandre Dumas, père, was a French writer, best known for his historical novels of high adventure. Translated into nearly 100 languages, these have made him one of the most widely read French authors in the world. His novels have been adapted since the early twentieth century for nearly 200 films.
Listen to sample
---