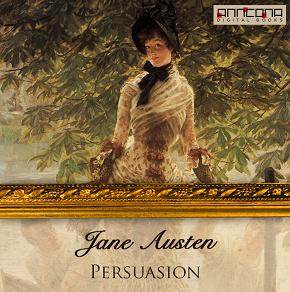 Isbn:
978-91-7605-142-9
Publisher:
Anncona Media
Category:
Novels
In english
Accessible since:
October 2014
Narrator:
Moria Fogarty
Length: 8 hours 18 minutes
---
Persuasion
Persuasion is Jane Austen's last completed novel. She began it soon after she had finished Emma and completed it in August 1816.

More than eight years before the novel opens, Anne Elliot, then a lovely, thoughtful, warm-hearted 19-year old, accepted a proposal of marriage from the handsome young naval officer Frederick Wentworth. He was clever, confident, and ambitious, but poor and with no particular family connections to recommend him. Sir Walter, Anne's fatuous, snobbish father and her equally self-involved older sister Elizabeth were dissatisfied with her choice, maintaining that he was no match for an Elliot of Kellynch Hall, the family estate. Her older friend and mentor, Lady Russell, acting in place of Anne's late mother, persuaded her to break the engagement, for she, too felt it was an imprudent match that was beneath Anne.

Now 27 and still unmarried, Anne re-encounters her former love when his sister and brother-in-law, the Crofts, take out a lease on Kellynch. Wentworth is now a captain and wealthy from maritime victories in the Napoleonic wars. However, he has not forgiven Anne for rejecting him. While publicly declaring that he is ready to marry any suitable young woman who catches his fancy, he privately resolves that he is ready to become attached to any appealing young woman with the exception of Anne Elliot.

Persuasion is widely appreciated as a moving love story despite what has been called its simple plot, and it exemplifies Austen's signature wit and ironic narrative style. While writing Persuasion, however, Austen became ill with the disease that would kill her less than two years later. As a result, the novel is both shorter and arguably less polished than Mansfield Park and Emma since it was not subject to the author's usual careful retrospective revision.

The novel is described in the introduction to the Penguin Classics edition as a great Cinderella story. It features a heroine who is generally unappreciated and to some degree exploited by those around her; a handsome prince who appears on the scene but seems more interested in the "more obvious" charms of others; a moment of realisation; and the final happy ending. It has been said that it is not that Anne is unloved, but rather that those around her no longer see her clearly: she is such a fixed part of their lives that her likes and dislikes, wishes and dreams are no longer considered, even by those who claim to value her, like Lady Russell.

Persuasion is linked to Northanger Abbey not only by the fact that the two books were originally bound up in one volume and published together, but also because both stories are set partly in Bath, a fashionable city with which Austen was well acquainted, having lived there from 1801 to 1805.

Persuasion has been the subject of several TV and film adaptations.

Jane Austen (1775-1817) was an English novelist whose works of romantic fiction, set among the landed gentry, earned her a place as one of the most widely read writers in English literature. Her realism, biting irony and social commentary have gained her historical importance among scholars and critics.

From 1811 until 1816, with the release of Sense and Sensibility (1811), Pride and Prejudice (1813), Mansfield Park (1814) and Emma (1816), she achieved success as a published writer. She wrote two additional novels, Northanger Abbey and Persuasion, both published posthumously in 1818, and began a third, which was eventually titled Sanditon, but died before completing it.

In 1994, American literary critic Harold Bloom placed Austen among the greatest Western Writers of all time. In a 2002 poll to determine whom the UK public considers the greatest British people in history, Austen was ranked number 70 in the list of the "100 Greatest Britons". In 2003, Austen's Pride and Prejudice came second in the BBC's The Big Read, a national poll to find the "Nation's best-loved book."
Listen to sample
---