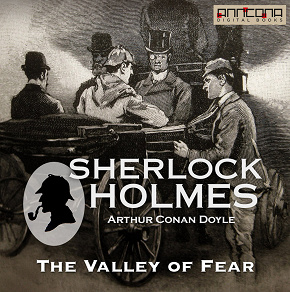 Isbn:
978-91-7605-156-6
Publisher:
Anncona Media
Category:
Novels
Crime & Mystery
In english
Accessible since:
October 2014
Narrator:
Katie Raleigh
Length: 6 hours 17 minutes
---
The Valley of Fear
The Valley of Fear is the fourth and final Sherlock Holmes novel by Sir Arthur Conan Doyle. It is based on the supposedly real-life exploits of the Molly Maguires and Pinkerton agent James McParland. The story was first published in the Strand Magazine between September 1914 and May 1915, and the first book edition was published in 1915.

The Valley of Fear, notable for Professor Moriarty's involvement, is set before "The Final Problem", the short story in which Moriarty was introduced.

Among the few film adaptations are the 1916 silent film The Valley of Fear starring H.A. Saintsbury and Booth Conway, the 1935 British film The Triumph of Sherlock Holmes, starring Arthur Wontner as Holmes and Ian Fleming as Watson, and the 1984 animated film Sherlock Holmes and the Valley of Fear, starring Peter O'Toole as the voice of Holmes. The story was also adapted for an episode of the 1954 television series Sherlock Holmes starring Ronald Howard as Holmes and Howard Marion Crawford as Watson. The episode is titled "The Case of the Pennsylvania Gun". The 1962 film Sherlock Holmes and the Deadly Necklace was intended to be an adaptation of The Valley of Fear, but only minor elements of the story remained in the final film.

Sir Arthur Conan Doyle (1859-1930) was a Scottish physician and writer, most noted for his stories about the detective Sherlock Holmes, generally considered a milestone in the field of crime fiction, and for the adventures of Professor Challenger. He was a prolific writer whose other works include science fiction stories, plays, romances, poetry, non-fiction and historical novels.

Sherlock Holmes is a London-based "consulting detective" whose abilities border on the fantastic, Holmes is famous for his astute logical reasoning, his ability to adopt almost any disguise, and his use of forensic science skills to solve difficult cases.

Holmes, who first appeared in publication in 1887, was featured in four novels and 56 short stories.

Novels: A Study in Scarlet (1887), The Sign of the Four (1890), The Hound of the Baskervilles (1902) and The Valley of Fear (1915).

Short stories: The Adventures of Sherlock Holmes (1892), The Memoirs of Sherlock Holmes (1894), The Return of Sherlock Holmes (1905), His Last Bow (1917) and The Case-Book of Sherlock Holmes (1927).
Listen to sample
---