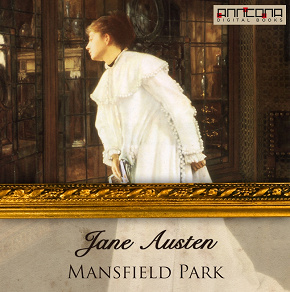 Isbn:
978-91-7605-138-2
Publisher:
Anncona Media
Category:
Novels
In english
Accessible since:
May 2014
Narrator:
Karen Savage
Length: 14 hours 21 minutes
---
Mansfield Park
Mansfield Park is a novel by Jane Austen, published in May 1814 by Thomas Egerton, who published Jane Austen's two earlier novels, Sense and Sensibility and Pride and Prejudice. When the novel reached a second edition in 1816, its publication was taken over by John Murray, who also published its successor, Emma.

Mansfield Park is the most controversial of Austen's major novels. The story contains much social satire, targeted particularly at the two aunts. It is an even more socially-aware novel than Austen's others, focusing as it does on the slave trade and the roots of the British upper-crust's wealth in corruption and exploitation. It is probably the least romantic and most pragmatic of Austen's novels, as its abrupt and rather matter-of-fact ending shows.

Mansfield Park has been the subject of a number of adaptations for TV, film and stage.

Jane Austen (1775-1817) was an English novelist whose works of romantic fiction, set among the landed gentry, earned her a place as one of the most widely read writers in English literature. Her realism, biting irony and social commentary have gained her historical importance among scholars and critics.

From 1811 until 1816, with the release of Sense and Sensibility (1811), Pride and Prejudice (1813), Mansfield Park (1814) and Emma (1816), she achieved success as a published writer. She wrote two additional novels, Northanger Abbey and Persuasion, both published posthumously in 1818, and began a third, which was eventually titled Sanditon, but died before completing it.

In 1994, American literary critic Harold Bloom placed Austen among the greatest Western Writers of all time. In a 2002 poll to determine whom the UK public considers the greatest British people in history, Austen was ranked number 70 in the list of the "100 Greatest Britons". In 2003, Austen's Pride and Prejudice came second in the BBC's The Big Read, a national poll to find the "Nation's best-loved book."
Listen to sample
---