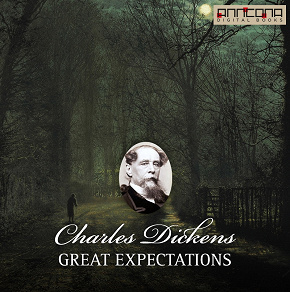 Isbn:
978-91-7605-206-8
Publisher:
Anncona Media
Category:
Novels
In english
Accessible since:
May 2014
Narrator:
Mark F. Smith
Length: 20 hours 6 minutes
---
Great Expectations
Great Expectations is Charles Dickens's thirteenth novel. It is his second novel, after David Copperfield, to be fully narrated in the first person. Great Expectations is a bildungsroman, or a coming-of-age novel, and it is a classic work of Victorian literature. It depicts the growth and personal development of an orphan named Pip. The novel was first published in serial form in Dickens's weekly periodical All the Year Round, from 1 December 1860 to August 1861.

Dickens originally intended Great Expectations to be twice as long, but constraints imposed by the management of All the Year Round limited the novel's length. Collected and dense, with a conciseness unusual for Dickens, the novel represents Dickens's peak and maturity as an author. According to G. K. Chesterton, Dickens penned Great Expectations in "the afternoon of his life and fame."

Great Expectations is set among the marshes of Kent and in London in the early to mid-1800s. From the outset, the reader is "treated" by the terrifying encounter between Pip, the protagonist, and the escaped convict, Abel Magwitch. Great Expectations is a graphic book, full of extreme imagery, poverty, prison ships, "the hulks," barriers and chains, and fights to the death. It therefore combines intrigue and unexpected twists of autobiographical detail in different tones. Regardless of its narrative technique, the novel reflects the events of the time, Dickens's concerns, and the relationship between society and man.

Dickens felt Great Expectations was his best work. Great Expectations has a colourful cast that has entered popular culture: the capricious Miss Havisham, the cold and beautiful Estella, Joe the kind and generous blacksmith, the dry and sycophantic Uncle Pumblechook, Mr Jaggers, Wemmick with his dual personality, and the eloquent and wise friend, Herbert Pocket. Throughout the narrative, typical Dickensian themes emerge: wealth and poverty, love and rejection, and the eventual triumph of good over evil. Great Expectations has become very popular and is now taught as a classic in many English classes. It has been translated into many languages and adapted many times in film and other media.

Audiobook running time: 20 hours. Unabridged version - 185,258 words - 424 pages in the printed edition.

Charles John Huffam Dickens (1812-1870) was an English writer and social critic. He created some of the world's most memorable fictional characters and is generally regarded as the greatest novelist of the Victorian period. During his life, his works enjoyed unprecedented fame, and by the twentieth century his literary genius was broadly acknowledged by critics and scholars. His novels and short stories continue to be widely popular. Dickens was regarded as the literary colossus of his age. His 1843 novella, A Christmas Carol, is one of the most influential works ever written, and it remains popular and continues to inspire adaptations in every artistic genre. Set in London and Paris, his 1859 novel, A Tale of Two Cities, is the best selling novel of all time. His creative genius has been praised by fellow writers, from Leo Tolstoy to George Orwell and G. K. Chesterton, for its realism, comedy, prose style, unique characterisations, and social criticism.
Listen to sample
---