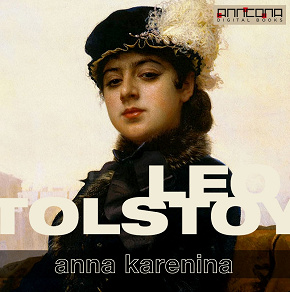 Isbn:
978-91-7605-224-2
Publisher:
Anncona Media
Category:
Novels
History
In english
Accessible since:
April 2014
Narrator:
Mary Ann Spiegel
Length: 36 hours 20 minutes
---
Anna Karenina
Anna Karenina is a novel by the Russian writer Leo Tolstoy, published 1878. Widely regarded as a pinnacle in realist fiction, Tolstoy considered Anna Karenina his first true novel, when he came to consider War and Peace to be more than a novel. Fyodor Dostoyevsky declared it to be "flawless as a work of art". The novel is currently enjoying popularity, as demonstrated by a recent poll of 125 contemporary authors by J. Peder Zane, published in 2007 in "The Top Ten" in Time, which declared that Anna Karenina is the "greatest novel ever written".

Anna Karenina is the tragic story of a married aristocrat/socialite and her affair with the affluent Count Vronsky. The story starts when she arrives in the midst of a family broken up by her brother's unbridled womanizing — something that prefigures her own later situation, though she would experience less tolerance by others.

The novel explores a diverse range of topics throughout its approximately thousand pages. Some of these topics include an evaluation of the feudal system that existed in Russia at the time -- politics, not only in the Russian government but also at the level of the individual characters and families, religion, morality, gender and social class.

Tolstoy's style in Anna Karenina is considered by many critics to be transitional, forming a bridge between the realist and modernist novel. Also of significance is Tolstoy's use of real events in his narrative, to lend greater verisimilitude to the fictional events of his narrative. Characters debate significant sociopolitical issues affecting Russia in the latter half of the nineteenth century, such as the place and role of the Russian peasant in society, education reform, and women's rights. The broad array of situations and ideas depicted in Anna Karenina allows Tolstoy to present a treatise on his era's Russia, and, by virtue of its very breadth and depth, all of human society.

The novel has been adapted into various media including opera, film, television, ballet, and radio drama.

Audiobook total running time: 36 hours. Unabridged version. 349,686 words - ca 900 pages in the printed edition.

Count Lev Nikolayevich Tolstoy; (1828-1910), also known as Leo Tolstoy, was a Russian writer who primarily wrote novels and short stories. Tolstoy was a master of realistic fiction and is widely considered one of the world's greatest novelists. He is best known for two long novels, War and Peace (1869) and Anna Karenina (1877).

Tolstoy is one of the giants of Russian literature. His contemporaries paid him lofty tributes. Fyodor Dostoyevsky thought him the greatest of all living novelists. Later critics and novelists continue to bear testament to Tolstoy's art. Virginia Woolf declared him the greatest of all novelists. James Joyce noted that, "He is never dull, never stupid, never tired, never pedantic, never theatrical!". Thomas Mann wrote of Tolstoy's seemingly guileless artistry: "Seldom did art work so much like nature".
Listen to sample
---