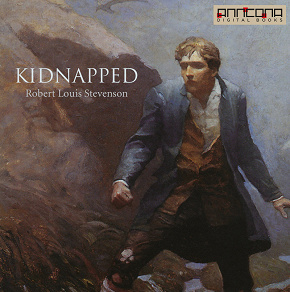 Isbn:
978-91-7605-126-9
Publisher:
Anncona Media
Category:
Novels
In english
Accessible since:
April 2014
Narrator:
Mark F. Smith
Length: 8 hours 4 minutes
---
Kidnapped
Kidnapped is a historical fiction adventure novel by Stevenson. Written as a "boys' novel" and first published in the magazine Young Folks from May to July 1886, the novel has attracted the praise and admiration of writers as diverse as Henry James, Jorge Luis Borges, and Seamus Heaney.

As historical fiction, it is set around 18th-century Scottish events, notably the "Appin Murder", which occurred near Ballachulish in 1752 in the aftermath of the Jacobite Rising. Many of the characters, and one of the principals, Alan Breck Stewart, were real people. The political situation of the time is portrayed from different viewpoints, and the Scottish Highlanders are treated sympathetically.

The solid historical and environmental background, and the realism with which the physical hardship suffered by Alan and David is described, give the novel an immediacy which perhaps explains the hold it has on some readers, given the simple narrative line and spare plotting. Indeed, plot only takes a dominant role at the beginning and end of the novel, while the heart of it lies in what Henry James described as the "really excellent" chapters of the flight in the heather. Some of the Scottish dialogue may be hard going for non-Scots readers, though Stevenson himself admitted that he had applied only a smattering so as not to tax the inner ear of non-Scots. Kidnapped also shows the importance of friendship and loyalty, mostly between David and Alan.

Kidnapped was well received and sold well while Stevenson was alive, but after his death many viewed it with skepticism seeing it as simply a "boys' novel". By the mid-20th century, however, it had regained critical approval and study.

The novel has been adapted a number of times. Film versions were made in 1938, 1960, 1971, 1986, 1995, and 2005.

Robert Louis Balfour Stevenson (1850-1894) was a Scottish novelist, poet, essayist, and travel writer. His most famous works are Treasure Island, Kidnapped, and Strange Case of Dr Jekyll and Mr Hyde.

A literary celebrity during his lifetime, Stevenson now ranks among the 26 most translated authors in the world, ahead of fellow nineteenth-century writers Oscar Wilde and Edgar Allan Poe. His works have been admired by many other writers, including Jorge Luis Borges, Ernest Hemingway, Rudyard Kipling, Marcel Schwob, Vladimir Nabokov, J. M. Barrie, and G. K. Chesterton, who said of him that he "seemed to pick the right word up on the point of his pen, like a man playing spillikins."
Listen to sample
---