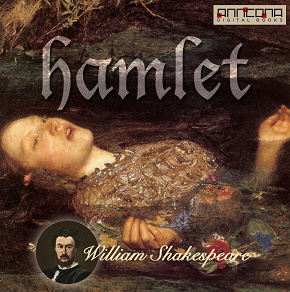 Isbn:
978-91-7605-168-9
Publisher:
Anncona Media
Category:
Plays
In english
Accessible since:
March 2014
Narrator:
Sam Stinson
Length: 4 hours 7 minutes
---
Hamlet
The Tragedy of Hamlet, Prince of Denmark is a tragedy written by William Shakespeare between 1599 and 1602. Set in the Kingdom of Denmark, the play dramatizes the revenge Prince Hamlet exacts on his uncle Claudius for murdering King Hamlet, who is Claudius's brother and Prince Hamlet's father, and then succeeding to the throne and taking as his wife Gertrude, the old king's widow and Prince Hamlet's mother. The play vividly portrays both true and feigned madness—from overwhelming grief to seething rage - and explores themes of treachery, revenge, incest, and moral corruption.

Hamlet is Shakespeare's longest play and among the most powerful and influential tragedies in English literature, with a story capable of "seemingly endless retelling and adaptation by others." The play was one of Shakespeare's most popular works during his lifetime and still ranks among his most-performed, topping the Royal Shakespeare Company's performance list since 1879. It has inspired writers from Goethe and Dickens to Joyce and Murdoch, and has been described as "the world's most filmed story after Cinderella".

Shakespeare based Hamlet on the legend of Amleth, preserved by 13th-century chronicler Saxo Grammaticus in his Gesta Danorum as subsequently retold by 16th-century scholar François de Belleforest. He may also have drawn on or perhaps written an earlier (hypothetical) Elizabethan play known today as the Ur-Hamlet. He almost certainly created the title role for Richard Burbage, the leading tragedian of Shakespeare's time. In the 400 years since, the role has been performed by highly acclaimed actors from each successive age.

William Shakespeare (1564-1616) was an English poet, playwright and actor, widely regarded as the greatest writer in the English language and the world's pre-eminent dramatist. He is often called England's national poet and the "Bard of Avon". His extant works, including some collaborations, consist of about 38 plays, 154 sonnets, two long narrative poems, and a few other verses, the authorship of some of which is uncertain. His plays have been translated into every major living language and are performed more often than those of any other playwright.

Shakespeare was born and brought up in Stratford-upon-Avon. At the age of 18, he married Anne Hathaway, with whom he had three children: Susanna, and twins Hamnet and Judith.Between 1585 and 1592, he began a successful career in London as an actor, writer, and part-owner of a playing company called the Lord Chamberlain's Men, later known as the King's Men. He appears to have retired to Stratford around 1613 at age 49, where he died three years later.

Shakespeare produced most of his known work between 1589 and 1613. His early plays were mainly comedies and histories, genres he raised to the peak of sophistication and artistry by the end of the 16th century. He then wrote mainly tragedies until about 1608, including Hamlet, King Lear, Othello, and Macbeth, considered some of the finest works in the English language. In his last phase, he wrote tragicomedies, also known as romances, and collaborated with other playwrights.

Shakespeare was a respected poet and playwright in his own day, but his reputation did not rise to its present heights until the 19th century. The Romantics, in particular, acclaimed Shakespeare's genius, and the Victorians worshipped Shakespeare with a reverence that George Bernard Shaw called "bardolatry". In the 20th century, his work was repeatedly adopted and rediscovered by new movements in scholarship and performance. His plays remain highly popular today and are constantly studied, performed, and reinterpreted in diverse cultural and political contexts throughout the world.
Listen to sample
---