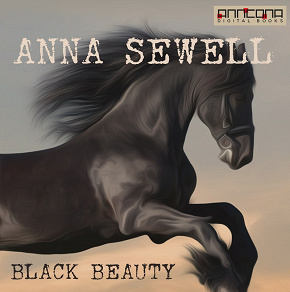 Black Beauty
Black Beauty is an 1877 novel by English author Anna Sewell. It was composed in the last years of her life, during which she remained in her house as an invalid. The novel became an immediate best-seller, with Sewell dying just five months after its publication, but long enough to see her only novel become a success. With fifty million copies sold, Black Beauty is one of the best-selling books of all time.
While forthrightly teaching animal welfare, it also teaches how to treat people with kindness, sympathy, and respect. Black Beauty became a forerunner to the pony book genre of children's literature. In 2003, the novel was listed at number 58 on the BBC's survey The Big Read.
The story is narrated in the first person as an autobiographical memoir told by the titular horse named Black Beauty—beginning with his carefree days as a colt on an English farm with his mother, to his difficult life pulling cabs in London, to his happy retirement in the country. Along the way, he meets with many hardships and recounts many tales of cruelty and kindness. Each short chapter recounts an incident in Black Beauty's life containing a lesson or moral typically related to the kindness, sympathy, and understanding treatment of horses, with Sewell's detailed observations and extensive descriptions of horse behavior lending the novel a good deal of realism.
The book has been adapted into film and television several times.
Anna Sewell (1820–1878) was an English novelist, best known as the author of the classic novel Black Beauty.
Sewell's only published work was Black Beauty, written during 1871 to 1877, after she had moved to Old Catton, a village outside the city of Norwich in Norfolk. During this time her health was declining. She was often so weak that she was confined to her bed and writing was a challenge. She dictated the text to her mother and from 1876 began to write on slips of paper which her mother then transcribed.
Sewell sold the novel to local publisher Jarrolds on 24 November 1877, when she was 57 years of age. Although it is now considered a children's classic, she originally wrote it for those who worked with horses. She said "a special aim [was] to induce kindness, sympathy, and an understanding treatment of horses".
Sewell died on 25 April 1878, five months after her book was published, living long enough to see its initial success.
Listen to sample
---