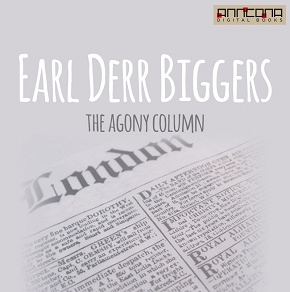 Isbn:
978-91-7605-050-7
Publisher:
Anncona Media
Category:
Novels
Crime & Mystery
In english
Accessible since:
February 2014
Narrator:
P. Eac
Length: 2 hours 29 minutes
---
The Agony Column
The Agony Column (aka The Second Floor Mystery) is a mystery/romance novel by Earl Derr Biggers published in 1916. It is a romantic adventure starring a young American in London and inspired by the personal ads (agony columns) in the London papers. In this treacherous tale of murder and intrigue young American Geoffrey West tracks a killer from the posh dining room of the Carlton Hotel to the opium dens of London's Limehouse district in search of the truth and the heart of his true love only to find the culprit all too close to home.

The Agony Column was released as a movie under the name Second Floor Mystery in 1930. While this movie was in production, its two stars, Loretta Young and Grant Withers, eloped.

Earl Derr Biggers (1884-1933) was an American novelist and playwright. He is remembered primarily for his novels, especially those featuring the Chinese American detective Charlie Chan, from which popular films were made in the United States and China.

The son of Robert J. and Emma E. (Derr) Biggers, Earl Derr Biggers was born in Warren, Ohio, and graduated from Harvard University in 1907. Many of his plays and novels were made into movies. He was posthumously inducted into the Warren City Schools Distinguished Alumni Hall of Fame.
Listen to sample
---