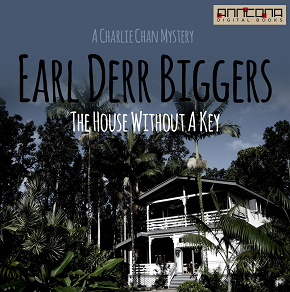 Isbn:
978-91-7605-036-1
Publisher:
Anncona Media
Category:
Novels
Crime & Mystery
In english
Accessible since:
February 2014
Narrator:
Ashleigh Jane
Length: 8 hours 52 minutes
---
The House Without a Key
The House Without a Key is a novel that was written in 1925 by Earl Derr Biggers. It is the first of the Charlie Chan mysteries.

The novel, which takes place in 1920s Hawaii, spends time acquainting the reader with the look and feel of the islands of that era from the standpoint of both white and non-white inhabitants, and describes social class structures and customs which have largely vanished in the 21st century. The novel deals with the murder of a former member of Boston society who has lived in Hawaii for a number of years.

The novel is remarkable in two respects. First, although Chan is ostensibly the detective, his role in the book is fairly small. Second, the novel's portrayal of the Chinese, specifically Charlie Chan, is forward-looking for its era. The Bostonians find it hard to accept a Chinese detective on the case, but the locals know him by reputation and show him respect. While, some of the descriptions evince some of the stereotypes of the day, Chan is portrayed sympathetically, as an equal to the whites that surround him. (Indeed, Charlie Chan's superior, a white Captain of Detectives, puts him on the case and trusts him completely.)

The House Without a Key was adapted for film twice, as The House Without a Key in 1926 and as Charlie Chan's Greatest Case in 1933.

Earl Derr Biggers (1884-1933) was an American novelist and playwright. He is remembered primarily for his novels, especially those featuring the Chinese American detective Charlie Chan, from which popular films were made in the United States and China.

The son of Robert J. and Emma E. (Derr) Biggers, Earl Derr Biggers was born in Warren, Ohio, and graduated from Harvard University in 1907. Many of his plays and novels were made into movies. He was posthumously inducted into the Warren City Schools Distinguished Alumni Hall of Fame.

The popularity of Charlie Chan extended even to China, where audiences in Shanghai appreciated the Hollywood films. Chinese companies made films starring this fictional character.
Listen to sample
---