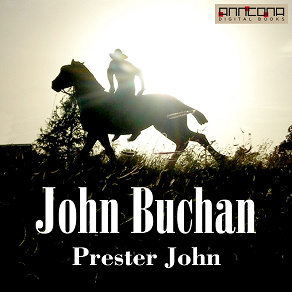 Isbn:
978-91-7605-033-0
Publisher:
Anncona Media
Category:
Novels
Crime & Mystery
In english
Accessible since:
February 2014
Narrator:
Grant Hurlock
Length: 7 hours 43 minutes
---
Prester John
Prester John is a 1910 adventure novel by John Buchan. It tells the story of a young Scotsman named David Crawfurd and his adventures in South Africa, where a Zulu uprising is tied to the medieval legend of Prester John. Crawfurd is similar in many ways to Buchan's later character, Richard Hannay.

Prester John is an exceptionally entertaining example of an early 20th century adventure story. Its hero is a young Scotsman who travels to South Africa to make his fortune. Expecting to settle down to a quiet life as a storekeeper, he instead finds himself embroiled in a hotbed of social unrest and violence. Part mystery, part travelogue, part spy novel, part treasure hunt, it has all the makings of a crackling good read. Prester John is a thrilling story, full of daring heroes and wondrous villains, a forgotten gem of early 20th Century literature.

A classic adventure novel relates the first-person exploits of young David Crawfurd before the age of twenty. As a boy growing up on the coast of Scotland, minister's son Davie and two friends were pursued with murderous intent along the cliffs one night by John Laputa, a visiting black African preacher, whom they had witnessed performing un-Christian rites round a campfire on the beach. A few years later, when his father's death forces Davie to quit college and join the tribe of wandering Scots, our hero finds himself in South Africa, assistant shopkeeper in a seemingly sleepy back-veldt store. There he re-encounters Laputa, now charismatic leader of an incipient native uprising, secretly preaching the incendiary creed of "Africa for the Africans," and proclaiming himself heir to the mantle of Prester John, a legendary 15th-century Christian king of Ethiopia.

Buchan was a strong supporter of the British Empire and the British Commonwealth, and this can be seen in this novel. Containing the racial stereotypes and caricatures of its day, the book was popular, and constitutes an excellent example of early 20th century adventure novel. It is still in print today and much of the novel's theme of cultural clash is still relevant.John Buchan, 1st Baron Tweedsmuir PC GCMG GCVO CH (1875-1940) was a Scottish novelist, historian and Unionist politician who served as Governor General of Canada, the 15th since Canadian Confederation.

After a brief legal career Buchan simultaneously began both his writing career and his political and diplomatic career, serving as a private secretary to the colonial administrator of various colonies in Southern Africa. He eventually wrote propaganda for the British war effort in the First World War. Once he was back in civilian life Buchan was elected Member of Parliament for the Combined Scottish Universities, but he spent most of his time on his writing career, notably writing The Thirty-Nine Steps and other adventure fiction.
Listen to sample
---