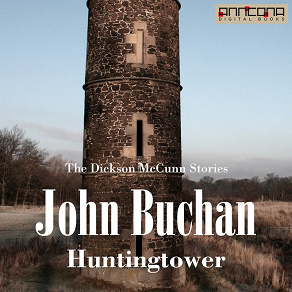 Isbn:
978-91-7605-031-6
Publisher:
Anncona Media
Category:
Novels
Crime & Mystery
In english
Accessible since:
February 2014
Narrator:
Simon Evers
Length: 7 hours 32 minutes
---
Huntingtower
Huntingtower is a novel written by John Buchan in 1922. The first of his three Dickson McCunn books, it is set near Carrick in south west Scotland around 1920. The hero is a 55-year old grocer Dickson McCunn, who has sold his business and taken early retirement. As soon as he ventures out to explore the world, he is swept out of his bourgeois rut into bizarre and outlandish adventures, and forced to become a reluctant hero.

The story revolves around the imprisonment under false pretenses by Bolshevik agents of an exiled Russian noblewoman. The Scottish local community mobilises to uncover and thwart the conspiracy against her, and to defend the neutrality of Scotland against the Russian revolutionary struggle. A plot based on espionage and covert violence is set against the seemingly tranquil Scottish rural backdrop, a narrative device commonly found in Buchan's novels. He uses this notably in The Thirty Nine Steps. The novel contrasts the domestic characters, heroes and villains, with their more alien Russian counterparts. Huntingtower is characteristic of Buchan's novels, particularly in its class-based paternalism; its xenophobic prejudices, which are mitigated by instinctive humanity and dry humour; and its shrewd common-sense understanding of personality and motivation.

In this novel Buchan creates characters across a broad spectrum of Scottish social classes and backgrounds, and while no one except McCunn is presented in great depth, we are given sharp and revealing character sketches of other key characters.

The 1927 Black and White silent film Huntingtower was based on the novel and directed by George Pearson. "Huntingtower" was adapted for BBC television in 1957, starring James Hayter. Huntingtower was also adapted in three one-hour episodes for BBC Radio in 2009 by Trevor Royal and directed by Patrick Raynor, and starred Roy Hanlon as McCunn, Stuart McQuarry as Heritage and David McKail as the Narrator. In addition to the above, BBC Scotland produced an adaptation which was broadcast over six episodes starting in October 1978.

The Dickson McCunn Trilogy is a set of three books by John Buchan. The novels in the trilogy are Huntingtower (1922), Castle Gay (1930) and The House of the Four Winds (1935).

John Buchan, 1st Baron Tweedsmuir PC GCMG GCVO CH (1875-1940) was a Scottish novelist, historian and Unionist politician who served as Governor General of Canada, the 15th since Canadian Confederation.

After a brief legal career Buchan simultaneously began both his writing career and his political and diplomatic career, serving as a private secretary to the colonial administrator of various colonies in Southern Africa. He eventually wrote propaganda for the British war effort in the First World War. Once he was back in civilian life Buchan was elected Member of Parliament for the Combined Scottish Universities, but he spent most of his time on his writing career, notably writing The Thirty-Nine Steps and other adventure fiction.


Listen to sample
---