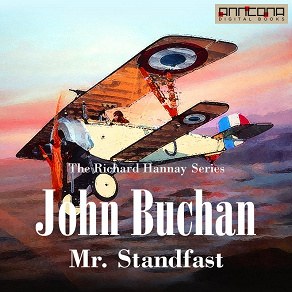 Isbn:
978-91-7605-030-9
Publisher:
Anncona Media
Category:
Novels
Crime & Mystery
In english
Accessible since:
February 2014
Narrator:
Nicholas Clifford
Length: 11 hours 50 minutes
---
Mr. Standfast
Mr. Standfast is the third of five Richard Hannay novels by John Buchan, first published in 1919 by Hodder and Stoughton, London.

It is one of two Hannay novels set during the First World War, the other being Greenmantle (1916), Hannay's first and best-known adventure, The Thirty-Nine Steps (1915), is set in the period immediately before the war started.

The title refers to a character in John Bunyan's Pilgrim's Progress, to which there are many other references in the novel; Hannay uses a copy of Pilgrim's Progress to decipher coded messages from his contacts, and letters from his friend Peter Pienaar.

Set in the later years of World War I, Brigadier-General Hannay is recalled from active service on the Western Front to undertake a secret mission hunting for a dangerous German agent at large in Britain. Hannay is required to work undercover disguised as a pacifist, roaming the country incognito to investigate a German spy and his agents, and then heads to the Swiss Alps to save Europe from being overwhelmed by the German army.

Richard Hannay continued his adventures in four subsequent books. Two were set during the war when Hannay continued his undercover work against the Germans and their allies the Turks in Greenmantle (1916) and Mr Standfast (1919). The other two stories, The Three Hostages (1924) and The Island of Sheep (1936) were set in the post war period when Hannay's opponents were criminal gangs.

Major-General Sir Richard Hannay, KCB, OBE, DSO, Legion of Honour, is a fictional secret agent and army officer created by Scottish novelist John Buchan. In his autobiography, Memory Hold-the-Door, Buchan suggests that the character is based, in part, on Edmund Ironside, from Edinburgh, a spy during the Second Boer War.

Richard Hannay was one of the first modern spy thriller heroes and as such has heavily influenced the genre. Today, considered in the light of mainstream espionage fiction, Hannay appears to be badly clichéd, although, as he was created well before his attributes became clichéd, Hannay could be more accurately described as a seminal character of the spy thriller genre.

John Buchan, 1st Baron Tweedsmuir PC GCMG GCVO CH (1875-1940) was a Scottish novelist, historian and Unionist politician who served as Governor General of Canada, the 15th since Canadian Confederation.

After a brief legal career Buchan simultaneously began both his writing career and his political and diplomatic career, serving as a private secretary to the colonial administrator of various colonies in Southern Africa. He eventually wrote propaganda for the British war effort in the First World War. Once he was back in civilian life Buchan was elected Member of Parliament for the Combined Scottish Universities, but he spent most of his time on his writing career, notably writing The Thirty-Nine Steps and other adventure fiction.
Listen to sample
---