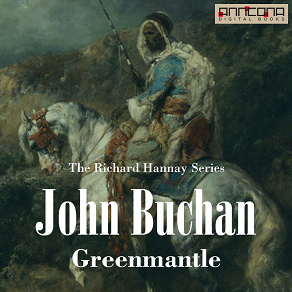 Isbn:
978-91-7605-029-3
Publisher:
Anncona Media
Category:
Novels
Crime & Mystery
In english
Accessible since:
February 2014
Narrator:
Tom Weiss
Length: 9 hours 16 minutes
---
Greenmantle
Greenmantle is the second of five novels by John Buchan featuring the character of Richard Hannay, first published in 1916. It is one of two Hannay novels set during the First World War, the other being Mr Standfast (1919); Hannay's first and best-known adventure, The Thirty-Nine Steps (1915), is set in the period immediately preceding the war.

Hannay is called in to investigate rumours of an uprising in the Muslim world, and undertakes a perilous journey through enemy territory to meet his friend Sandy in Constantinople. Once there, he and his friends must thwart the Germans' plans to use religion to help them win the war, climaxing at the battle of Erzurum.

The book was very popular when published, and was read and enjoyed by Robert Baden-Powell and by the Russian imperial family as they awaited the outcome of the Revolution in 1917.

According to Patrick McGilligan's 2003 biography, Alfred Hitchcock, who directed the 1935 film adaptation of The 39 Steps, preferred Greenmantle and considered filming it on more than one occasion. He wanted to film the book with Cary Grant and Ingrid Bergman in the lead roles, but Buchan's estate wanted too much money for the screen rights. However no such project ever materialised in Hitchcock's lifetime and Greenmantle itself has yet to be filmed.

The first chapter of Greenmantle, "A Mission is Proposed", was chosen by Graham Greene for his 1957 anthology The Spy's Bedside Book.

The book has been adapted for broadcast on BBC Radio 4. It was for instance broadcast on BBC Radio4 Extra in two episodes on 27 and 28 August 2013 with David Robb as Richard Hannay and James Fleet as Sandy Arbuthnot, forced to be 'Greenmantle'.

Richard Hannay continued his adventures in four subsequent books. Two were set during the war when Hannay continued his undercover work against the Germans and their allies the Turks in Greenmantle (1916) and Mr Standfast (1919). The other two stories, The Three Hostages (1924) and The Island of Sheep (1936) were set in the post war period when Hannay's opponents were criminal gangs.

Major-General Sir Richard Hannay, KCB, OBE, DSO, Legion of Honour, is a fictional secret agent and army officer created by Scottish novelist John Buchan. In his autobiography, Memory Hold-the-Door, Buchan suggests that the character is based, in part, on Edmund Ironside, from Edinburgh, a spy during the Second Boer War.

Richard Hannay was one of the first modern spy thriller heroes and as such has heavily influenced the genre. Today, considered in the light of mainstream espionage fiction, Hannay appears to be badly clichéd, although, as he was created well before his attributes became clichéd, Hannay could be more accurately described as a seminal character of the spy thriller genre.

John Buchan, 1st Baron Tweedsmuir PC GCMG GCVO CH (1875-1940) was a Scottish novelist, historian and Unionist politician who served as Governor General of Canada, the 15th since Canadian Confederation.

After a brief legal career Buchan simultaneously began both his writing career and his political and diplomatic career, serving as a private secretary to the colonial administrator of various colonies in Southern Africa. He eventually wrote propaganda for the British war effort in the First World War. Once he was back in civilian life Buchan was elected Member of Parliament for the Combined Scottish Universities, but he spent most of his time on his writing career, notably writing The Thirty-Nine Steps and other adventure fiction.
Listen to sample
---